Hello my crafty friends,
I just had to make a card with this image from
QKR Stampede.
I know I wanted a yellow shirt. I don't know why. LOL. Of course I used my Spectrum Noir markers. I will make myself write down what I use in the future. There are so many markers to choose from the different sets that go together. Yes, I have all the markers. It took me a while but when I knew I really liked them, I was able to find a good buy on them online. I bought all the individual sets from JoAnn's and the 24 marker sets online. The 24 marker sets come in: Brights, Lights, Pastels, and Darks. The 6 marker sets I got at JoAnn's come in shades of the same color family, such as Pinks, Reds, Greens, Browns, Purples, Blues, Yellows, Cool Gray, Warm Gray, Pale Hues, and Essentials. The Essentials set has the blender marker. It allows you to erase if you go outside the line. I still have to master the technique. Now back to my card. The Thanks sentiment is from Stampin up set Petite Pairs. The sentiment below the bear is computer generated. I used Tim Holtz Tea Die Distress Ink around the bear mat. The bakers twine is from the neutral assortment from Close to My Heart. The mat for my card was from Debbie Mumm Harvest and Holiday paper pak. The base card was from my stash. Thanks for your comments. I love hearing from you.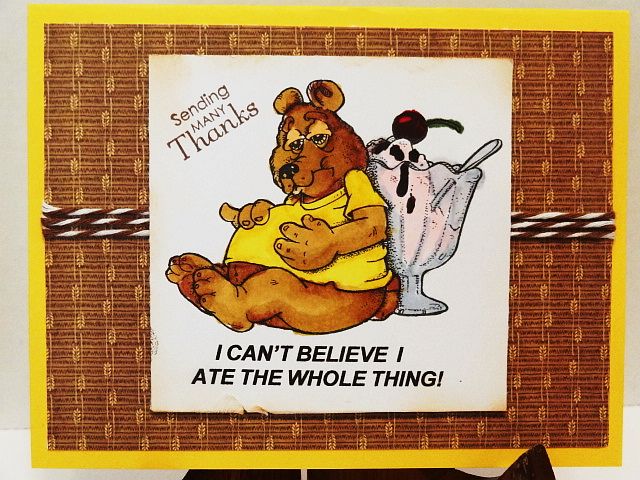 I entered this is the following challenges:
A.R.T.:
http://arandomthursdaychallenge.blogspot.com/
Challenges 4 Everybody:
http://challenges4everybody.blogspot.co.uk/
Crafts and Me:
http://craftsandmechallenges.blogspot.se/2013/06/challenge-138-anything-goes.html
Crafting by Designs:
http://craftingbydesigns.blogspot.se/
Creative Inspirations:
http://www.creativeinspirationspaint.blogspot.se/
Hiding in my craft room:
http://www.hidinginmycraftroom.com/
Inky Chicks:
http://inkychicks.blogspot.co.uk/
Five Simple Things:
http://asimplefive.blogspot.se/
Lacy Sunshine:
http://lacysunshinechallengeblog.blogspot.co.uk/
ABC Challenges:
http://www.abcchallenges.blogspot.com/
House of Gilli:
http://houseofgilli.blogspot.com/
Love to Scrap:
http://lovetoscrapchallengeblog.blogspot.co.uk/
Simon Says Stamp:
http://simonsaysstampandshow.blogspot.com/
The Paper Nest Dolls:
http://thepapernestdollschallenge.blogspot.com/
Platypus Creek:
http://platypuscreekdigitals.blogspot.com.au/
Without Words:
http://www.withoutwordschallenge.blogspot.com/
Through the Craft Door:
http://www.craftdoormagazine.com/
One Stitch At A Time:
http://onestitchatatimechallenge.blogspot.se/
Pollycraft Challenge:
http://pollycraftchallengeblog.blogspot.co.uk/
Scrapbook Stamps Society:
http://scrapbookstampsocietychallengeblog.blogspot.se/
My Heart Pieces:
http://myheartpiecesdigitalstampchallenge.blogspot.in/2013/06/use-digi-stamp.html
Sister Act:
http://sisteractcardchallenge.blogspot.de/2013/06/challenge-13.html
Stamping with Dragon:
http://stampingwithdragon.blogspot.se/
Stamping for the Weekend:
http://stampinfortheweekend.blogspot.se/2013/06/anything-goes.html
An Inky Situation:
http://aninkysituation.blogspot.com/
QKR Stampede:
http://qkrstampede.blogspot.com/