Hello my crafty friends,
Today's challenge over at
Artistic Inspirations
is to make a masculine card. I think of shades of brown and textures when asked for masculine cards. So no bling this time. The image is from
Dilly Beans
. I used Cuttlebug Fleur Embossing folder. I used the Silhouette Cameo to print and cut the label, sentiment and to cut the owl and tree branch. I added metal black buttons from my stash to the label.
I used Spectrum Noir markers EB1,TN1,2,5,CT4,GB11. I added pop dots to give the owl dimension sitting on the branch. Overall, I am happy with the results of this card. My hubby even liked it. Thanks for stopping by today and leaving your kind words. I love reading them.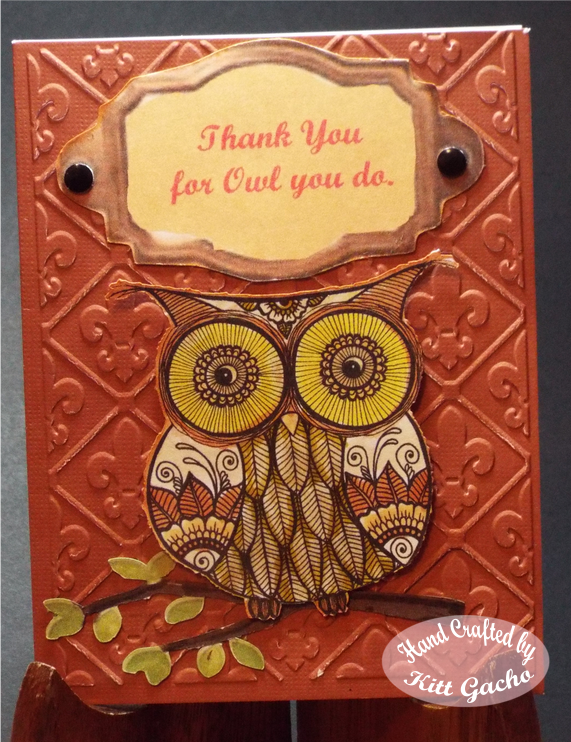 I entered this card in the following challenges:
The Crafty Bloggers Network:
http://www.craftybloggersnetwork.blogspot.com/
Crafty Card Makers:
http://craftycardmakers.blogspot.com/
Created with Love Challenge:
http://createdwithlovechallenges.blogspot.com/
Eureka Stamps:
http://eurekastamps.blogspot.com/
Love to Scrap:
http://lovetoscrapchallengeblog.blogspot.co.uk/\
Make It Monday:
http://ppp-makeitmonday.blogspot.com/
Melon Headz Friends:
http://melonheadzfriends.blogspot.com/
Paper Nest Dolls:
http://thepapernestdollschallenge.blogspot.com/
Vintage Stamping:
http://www.flonzcraft.com/vsc/
613 Avenue Create:
http://avenue613.blogspot.com/
CAS on Sunday:
http://cleanandsimpleonsunday.blogspot.com/
One Stitch at a Time:
http://onestitchatatimechallenge.blogspot.com/
Crafting by Design:
http://craftingbydesigns.blogspot.com/
Sister Act:
http://sisteractcardchallenge.blogspot.com/
4 Krafty Girls:
http://4kraftygirlzchallenges.blogspot.co.uk/
Through the Craftroom Door:
http://www.ttcrd.blogspot.com/
Cardz for Guys:
http://cardz4guyz.blogspot.co.uk/
Crafty Sentiments:
http://www.craftysentiments.blogspot.com/
Creative Card Crew:
http://creativecardcrew.blogspot.com/
Cuttlebug Mania:
http://cuttlebugmania.blogspot.co.uk/
Sweet Stamps:
http://sweetstampsblog.blogspot.com/
Tuesday Throw Down:
http://tuesdaythrowdown.blogspot.com/
2 Sisters:
http://2sisterschallengeblog.blogspot.com/
Color Me Creative:
http://scrapbitzcopics.ning.com/group/cmccopicchallengegroup
Digi Galore:
http://notrealstamps.blogspot.co.uk/
Less is More:
http://simplylessismoore.blogspot.com/
Crafty Little Fairies: http://craftylittlefairieschallenge.blogspot.co.uk/