Hello My Crafty Friends,
I am excited to announce that I am honored to be on my second design team, over at
Craftitude Challenges
. Be sure to stop by and be inspired by the design team's creations. Join the challenge for a chance to win 5 free images. I met another challenge for myself with another first. A center fold card. Ya'll, know how much I love to use my Spectrum Noir Markers and I just can't collect enough digital images to use them on. LOL. The image today is from
QKR
. The sentiment was computer generated. There were so many ways I could of went with the sentiment. I was going to go with 'witch way to the candy bowl,' hence the bad complexion she has. LOL. But I was inspired with the star paper that I had in my stash. I purchased it at JoAnn Fabrics over a year ago. For some reason I prefer the colors purple and yellow for Halloween witches. And skin should be some sort of bluish green, as you can see from my card. I used MTC to create the vertical lettering and the spider was cut with the Silhouette Cameo. The background area of the witch image and the sentiment was too white, so I colored it in with Spectrum Noir Marker GG1. I was going to use 2 small buttons but then I had a spider left over from another project. I thought it gave the card a good 3D effect when the card stands open. Follow along and share this creative journey with me and we'll soar to new heights of creativity together.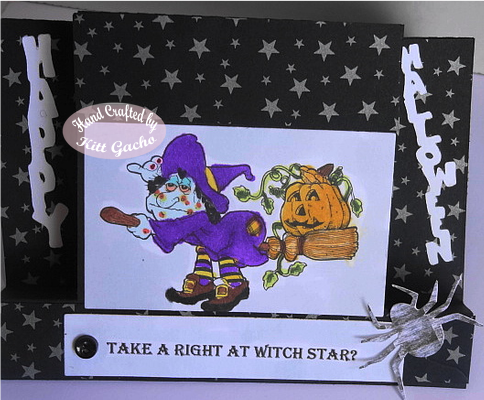 I entered this card in the following Challenges:
Crafty Boots:
http://craftybootschallenges.blogspot.co.uk/
4 Crafty Girls:
http://4kraftygirlzchallenges.blogspot.com/
ABC Challenges:
http://www.abcchallenges.blogspot.com/
Artistic Inspiration:
http://artisticinspirationschallenges.blogspot.co.uk/
C is for Challenge:
http://cisforchallenge.blogspot.com/
Crafting Desert Diva's:
http://www.craftindesertdivas.com/
Creative Cutting Challenge:
http://www.creativecuttingchallenge.blogspot.com/
Get Inky:
http://getinkychallenge.blogspot.com/
Incy Wincy Challenge:
http://incywincydesigns.blogspot.com/
Lexi's Creations:
http://lexiscreations.blogspot.com/
Make It Monday:
http://ppp-makeitmonday.blogspot.com/
The Crazy Challenge:
http://crazychallenge.blogspot.com/
Squigglefly:
http://squigglefly.blogspot.com/
The Sister Act:
http://sisteractcardchallenge.blogspot.com/
The Pink Elephant:
http://thepinkelephantchallenge.blogspot.com/
Bearly Mine:
http://bearlymine-challenges.blogspot.com/
Paper Take Weekly:
http://papertakeweekly.blogspot.com/
Loves Rubber Stamps:
http://www.lovesrubberstampschallenges.com/
Through the Craftroom Door:
http://ttcrd.blogspot.com/
Challenges 4 Everybody:
http://challenges4everybody.blogspot.com/
Cardsundmore:
http://cardsundmore-challengeblog.blogspot.com/
Crafty Sentiments:
http://www.craftysentiments.blogspot.com/
Creative Card Crew:
http://creativecardcrew.blogspot.com/
Ladybugs Crafts Ink:
http://ladybugscraftsinkchallengeblog.blogspot.com/
Oldie But Goodie:
http://oldiebutagoodiechallenge.blogspot.com/
Sweet Stamps:
http://sweetstampsblog.blogspot.com/
Crafting by Design:
http://craftingbydesigns.blogspot.com/
Crafting for All Seasons:
http://kitts-world.blogspot.ca/2013/10/annoucementand-another-first.html
Inspirational Challenge:
http://www.inkspirationalchallenges.blogspot.com/
Inklings and Yarn:
http://www.inklingsandyarns.com/
Pennys Challenge:
http://pennyschallenges.blogspot.com/
Sisterhood of Crafters:
http://thesisterhoodofcrafters.blogspot.com/
AUD Sentiments:
http://audsentimentschallengeblog.blogspot.com/
Craftin Boutique Challenges:
http://craftinboutiquechallenges.blogspot.com/
DL Art:
http://dianamlarson.blogspot.com/
My Heart Pieces:
http://myheartpiecesdigitalstampchallenge.blogspot.in/
Paper Crafting Challenge:
http://paper-craftingjourney.blogspot.co.uk/
Sarah Hurley:
http://www.sarahhurleychallenges.blogspot.com/
Designs by Lisa:
http://www.lisasomerville.com/
Cut It Up Challenge:
http://cutitupchallenges.blogspot.com/
Delicious Doodles:
http://deliciousdoodleschallenge.blogspot.com/
Digi Haven:
http://digihaven.blogspot.ca/
Jo's Scrap Shack:
http://jwscrapshack.blogspot.ca/
Kitty Bee designs:
http://kittybeedesigns.blogspot.com/
QKR Designs:
http://qkrstampede.blogspot.co.uk/
House That Stamps Built:
http://www.thehousethatstampsbuilt.com/
Scribble & Scrap:
http://scribbleandscrapcrafts.blogspot.co.uk/
613 Avenue Create:
http://avenue613.blogspot.no/
Creative Craft Challenge:
http://creativecraftchallenges2.blogspot.com/
Crafty Calendar:
http://craftycalendarchallenge.blogspot.com/
Di Digital Designs:
http://disdigidesignschallenge.blogspot.com/
Color Me Creative:
http://scrapbitzcopics.ning.com/